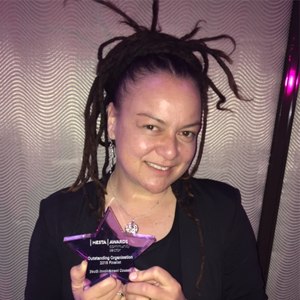 The McCusker Centre for Citizenship at UWA is a unique Centre that aims to inspire students and the Western Australian community to become active citizens in our local, regional and global communities through its internship program, academic units and events. The McCusker Centre for Citizenship partners with over 250 not-for-profit, community and government organisations to host UWA student interns. 
The Youth Involvement Council (YIC) is the primary youth organisation delivering programs to young people in Hedland and surrounding areas. The various YIC programs target 5-25 year old's who are considered to be at risk, homeless (or at imminent risk of homelessness), disadvantaged or in need of general support. 
Originally trained as a bi-lingual teacher in New Zealand, Vicki-Tree found herself in Hedland after a period of teaching and youth work in Mulan and Balgo (Kimberly Region) over the summer of 2005. In 2006, she decided to settle in Hedland and worked at the Youth Accommodation Program (YAP) which is a homelessness facility for young people run by the Youth Involvement Council (YIC). She continued to work across the programs at YIC for five years before being appointed as CEO at the end of 2010.
She holds qualifications in education, Maori law and philosophy, management and governance and most recently completed a post graduate certificate in social impact at UWA after securing a scholarship from BHP. Under Vicki's leadership the YIC has completed two infrastructure projects worth almost $15m and increased funding for programs by 100%. Her collaborative approach to leadership ensures that end-users, the team and the board are all involved in the strategic direction of the organisation and program content.